Error
some updates summary below. Off Trade. will resume next week.
- Debt Ceiling deal almost done. closely matching to scenario 2 mentioned last week. so, memang dollar, yen and chf strong as stock down. 
- ISM manufacturing down, last week US GDP number pon down. expectation for QE3 kembali lagi.
- market masih "nervous" in case Moody or S&P downgrade. tapi probability downgrade making kurang.
- SP500 remain bawah 1300 point. brearish pressure intact. mmg bagus utk gold, dollar.
- major market mover
  1: MPC rate meeting GBP, expect negative utk GBP
  2: Unemplyment claims - forecast meningkat, bad for US economi, stock will fall. dollar, yen, chf & gold mungkin naik on aversion.
  3. NFP - Job creation masih rendah. forecast cuma 91k. kalau lower than this, USD akan jatuh teruk sebab ini akan hidupkan kembali sentiment utk stimulus QE3. kalau dapat 100k+, insyaAllah dollar akan recover. stock pon akan naik. Gold akan jatuh, treasuries/bond price pon turun (yield naik).
stay alert dgn rating agencies yg tgh monitor Spain, portogal, greece, ireland. even france. EUR zone masih x stabil. also alert dgn BOJ intervention. hati2 kalau short yen crosess.
http://www.oasiswealthbuilders.com/images/stories/usdxaug1st_2011_h1.gif
http://www.oasiswealthbuilders.com/images/stories/sp500_indexjaug1.gif
mondays movement: Debt deal positive news + ISM bad data aversion= extreme movement. 
p/s: need to rest due to USDJPY tragedy. :-(
Update: Outlook 25th -29th July 2011
New Debt ceiling Due date: wednesday.
Obama masih berkeras nak grand deal of 4trillion raise and tax hike... mintak org2 kaya amerika si tarik balik pengecualian cukai.
republican John Boehner plak nak balance plan, raise ceiling utang selari dengan deficit cut..  kurangkan social security benefit, medicare.
masalah skrang ni, dorg xnak responsible for action yg ada possibility impact american in direct, contoh nya hike tax. sebab nya, 2012 ni election dorg. 
sejam lepas Obama and Boehner masing2 wat press confrence utk public pasal plan dorg. so far, nampak macam jauh dari nak setuju dorg ni. dua2 degil.
impact dari speech dorg tu, as expected, yen dgn chf gain strength due to aversion from dollar. UJ wat low baru, uchf historical low..
Dollar index mungkin akan sampai tempat yang kita marking semalam. 
so, continue buy dip, tema kita dollar weak. 
selagi xde kata sepakat... sell je dollar.
http://www.oasiswealthbuilders.com/images/stories/dollarindex_d1_26jul_2011.gif
Outlook 25th -29th July 2011
Salam... Maaf lambat post note minggu ni.. dah taip2 smlm terpadam.. keciwa terus tido. ni kena karang balik.
OK, last week dah settle bank stress test, EU summit. yg masih hangat skrang ni adalah Debt ceiling US.
apa terjadi last week? acct saya masih floating gaban di UJ. kesilapan lama berulang kembali.. overconfident with "regular" character of a pair... lupa yang ini FOREX. jeng.. now doing damage control. karut la politik US.. berpuloh kali dah raise debt ceiling with no issue, tiba kali ni banyak karenah. adoi. 
EU minister + IMF + EFSF dah setuju nk bg pinjam duit lagi kat greece.. berbillion billion lagi.. tapi tu baru setuju... yg wajib, adalah bersyarat sume tu. utang di panjangkan period, interest di kurangkan.. done deal.. market happy.. buy buy buy.. what will happen next? nanti kita kaji sama sama. ade kena jual greece ni nanti. hehehe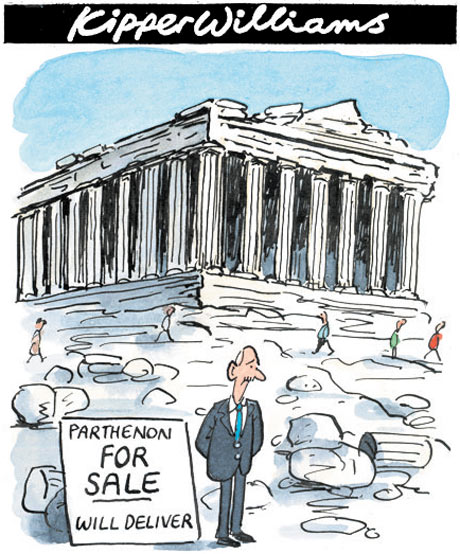 anyway,  untuk minggu ni. ni lauk pauk kita.
- US debt ceiling, discussion masih berlangsung. republican masih tak setuju dengan Obama punye proposal. skrang dorg diskas without Obama. yang penting bagi kita, result nanti. sepatutnya dorg dah kena ada draft on what to do to reduce spending, get revenue to justify ceiling hike. skrang ni bertekak je lebih, mcm parlimen malaya jek. what will impact the most dengan berita ni? - Stock market, Bond Yield, USDJPY, USDCHF. ada beberapa scenario yg kita kena diskas kat sini.
1: No hike. just recycle maturing bond.. (QE2 lite le jadinye). so US will default on some of its debt. Credit rating agencies akan terkan downgrade US treasuries the next day. kat sini Stocks will fall, Dollar will fall.. Gold, CHF, JPY will strengthen. BondYield will rise though. dalam kes ni, AUDUSD dgn NZDUSD terbang le.. EURUSD mungkin leh cecah 1.5000. - Possibility - Very Unlikely
2. small hike with incremental up to 1.5-2.5 trillion. ni kira ambik syarat je la. US x kan default. tapi treasuries tetap jd tak attractive. so, yield akan naik. USDCHF and USDJPY will rise. Dollar akan naik ke 75.++ area or more only to move down later. CRA downgrade tetap buat keja dia. rating tetap akan drop. SP500 selloff. dollar and gold gain. - possibility - VERY LIKELY
3.  decent hike of 3-4 trillion with proper spending cut and austerity planning. ini kira grand deal. US will keep rating AAA+ dia utk bond and stock will rally. bond price naik, bond yield turun. dollar weak, chf weak, jpy weak. risk appetite triggerred. - possibility, Unlikely.
- Credit rating Agency downgrade. US, Spain, Italy ada prospect utk kena downgrade. sapa dorang ni? dorg la yg buat research utk credit and bond market, utk jd reference investor and fund manager. bila depa downgrade, akan berlaku bond sel off due tu incresing risk. 
- Intervention by BOJ, Japan Minister NOda dah kluat phrase "decisive Steps", meaning dorg dah seriously looking to step in. buat masa ni dorg tak tgk price level, but instead, volatility. kalau UJ dok huru2 hara kat below 79.00, most likely BOJ will catch us by surprise. normally 1 intervention will push UJ 100-200 pips up. based on CFTC COT report, market dah overweight on long position bagi Yen futures. so, just a matter of time it will reverse.. theoretically la.. tapi FX ni byk unexpected things happened. so expect the unexpected.
sebelom tu kita tgk spot dollar index, chart daripada forex ltd. 
dengan bantuan news EURO jumaat lepas, UPtrendline daily dah pecah. Skrang daily chart dah ada Lower Low (73.97). utk continue upptrend, price must break back the TL tadi and create a higher high (75.71). Jika hari ni atau esok berlaku Lower High, di mana price xleh melepasi previous peak, bermakna trend keatas dah terbatal. we shall welcome bear utk dollar. 


http://www.oasiswealthbuilders.com/images/stories/dollarindex_d1_25jul_2011.gif
**Updated chart:
http://www.oasiswealthbuilders.com/images/stories/dollarindex_d1_26jul_2011.gif
Overall picture, if theres no bad breaking news about italy and spain this week.. focus on Buy dip for dollar weakness based on technical. alert for Moody, fitch and S&P rating announcement thru Reuters, bloomber or forexlive. 
trade safe. 
akan tambah details pasal Debt ceiling as we progressing. 
extra reading material:
http://freeserv.dukascopy.com/news/rss/info.php?id=1607252 debt ceiling discussion
http://freeserv.dukascopy.com/news/rss/info.php?id=1607119 Yen intervention
http://tutor2u.net/economics/revision-notes/a2-macro-exchange-rate.html macroeconomic corelation
** work in progress. save dulu
Outlook 18th -22nd July 2011
Salam...
adoi dah tulis panjang tapi terdelete. terpaksa tulis balik. last week FOMC and bank stress test kat eur zone dah settle. tapi implikasi dia akan continue ke minggu ni. 
FOMC: banyak diskas pasal debt and how to handle ceiling hike. juga pasal stimulus. market responded strongly on "QE3 option is on the table" statement, yg kemudian nya lemau balik selepas Core CPI show good improvement. overall 1.6% increase tahun ni so far. so, uncle ben cakap balik QE3 unlikely. so, risiko money printing is OFF buat masa ni. so focus kepada Debt ceiling hike discussion antara republican and democrats. ala2 PKR dgn BN nak decide on something big, tapi masing2 taknak ambik responsibility in case things go wrong. August 2nd is the big day. tapi things must be done deal by 22nd July to allow sometime utk procesing nitty gritty birokrasi tu agaknye. so far US dah hike debt ceiling sebanyak 71 kali since ceiling was implemented. utk bacaan details pasal ceiling, leh refer bawah ni.
http://www.carigold.com/portal/forums/showpost.php?p=10137700&postcount=1045
kiranya macam kita pakai credit card, tapi dok bayar minima je everymonth. tiba2 nak pakai duit lebih, kena mohon bank increase credit limit. benda elok ke tak pada pandangan tuan2? elok utk solution temporary, tapi long term gali kubur sendiri. gali lobang tutup lobang.
Kita akan cuba diskass impact on debt ceiling ni dalam article lain. panjang benor..
EURO ZONE BANK STRESS TEST. apa bondo yang stress nya? bank ke yg stress? hehehe.. ok test ni dibuat utk simulate keadaan yang paling teruk dalam ekonomi, dan juga tahap kekuatan bank tersebut berdasarkan kemampuan bank tersebut pada masa sekarang. . jika dalam simulasi menggunakan keupayaan semasa bank menunjukan bank tu tak boleh survive, tak cukup duit ke, kena pinjam bank pusat lagi ke.. meaning they are not ready for the worst and nees to do action plan utk ready for the worst. 
ni second time dorg buat test and kedua2 nya di pertikaikan oleh market dan juga analyst. kerana result too good to be true. seolah2 ECB nak cover line situasi sebenar dengan bank2 di europe. pada masa skrang ni, Bond yields bg negara2 seperti Greece, spain, portugal, irelan dan even italy is rising compare to german Bond. so, ini menunjukan market is bearish euro bond. so, not a good sign. leh google term euro bond spread utk details pasal ni. bottom line di sini, 8 failed bank in test did not earned confidence from market even the number is way below expectation (15). 
so risk event this week.
look for credit rating agencies statement. sapo plak CRA ni? depa ni adalah thisrd party yg buat analysis on credit bagi sesebuah negara specializing in bond. so, depa ni jadi reference utk investor allocate the investment kat mana2 negara. ada banyak CRA ni, nama2 yang besar adalah Standard & Poor (S&P), Moody and Fitch. bila depa 3 ekoq ni cakap nk downgrade ata DAH downgrade credit sesebuah negara, market akan respont violently. fot the time being, Greek dah kena rate macam junk dah. tak laku dah nak jual. manakala US, mungkin kena downgrade dari rating top dorg. so, kalau betul kena downgrade, investor will sell US treasuries, causing spike in yield and causing stock market to "terjun" ke longkang. dalam kata lain, it would be a risk off (aversion) scenario, 
more reading material about CRA - 
in conclusion: minggu ni market akan follow dollar.  saya focus price action and TA utk minggu ni at least sampai rabu before reevaluating. 
Updating chart dulu. let's look at USDX.. TF Daily
http://www.imageno.com/0d0rcmksbr4apic.html 
- Doji On daily. Monday candle will decide the direction of the week. Support MA60, and Golden 61.8% Fibo. down below is Uptrend trendline as support. tgk pada chart pattern on daily, no New Low has been created. Looks like Bull masih on track in long/medium term utk dollar.  Tapi, kalau zoom to lower TF seperti H1, possibility a slight move ke selatan masih ada kerana minor TL dah broken. 
kita tgk chart baru, SP500 untuk minggu ni. kenapa? sebab menu besar kita nak kena tengok adalah Debt Ceiling in US. so, stock market depa akan pengaruhi dollar dan risk sentiment.
Sp500 Bull skrang ni limited kat 100 Days moving average. (SMA100). target saya personally nak tgk price hit demand zone and 61.8% fibo. Psycho level of 1,300 point pon ada kat area yang sama. very likely market will try to hit this area.
dari segi technical, daily CS utk EU GU ada Doji + Spinning. probably market akan buy USD esok and sell euro. Saya cerita fundamental driver esok pagi.
to be continued
Outlook 11th -15th July 2011
Assalamualaikum,
hope everyone had a great result last week. mine was OK. Alhamdulillah. Data release last week memang mengelirukan especially Job data. ADP dgn Unemplyment claim both tunjukkan data yg banyak improve. giving false hope NFP akan bagi better number for job creation kat US. rupanya, tipah tertipu. Job data was worse than forecast despite strong ADP number.  I expected better data as sume data lain pointing to that direction. tapi, kita hanya merancang. so, di sebabkan Job data tu agak teruk, we might see a continuation impact of this news sampai minggu ni jugak. especially on stock market. this clearly shows that economy globally masih weak. especially in US. boleh tengok banyak "merah" la kat IA minggu ni. -risk aversion mode.
So far kita nampak Yen bertambah strong selepas Job news, acting as safe haven. USD dgn CHF belum dapat atention lagi. probably this week market akan turn to dollar and chf for risk averse.
Menu utama minggu ni, EUR banks stress test result - Selasa, dan juga FOMC minutes, pon selasa. watchout for breaking news dari eurozone.
Fundamentally, US is still in bad shape. market akan pay attention to Uncle Ben pada hari rabu nanti. what will Feds do to prevent more sell off in stocks market. so far, tengok pada chart SP500, the fall is likely to continue. secara teorinya, ini akan push dollar higher.  cuma, jika Uncle Ben bagi hint on QE3, market mmg akan turn bearish dollar balik. so, my strategy for this week, intraday and session breakout and after midnight scalping. target pair, GBPUSD, EURUSD and EURJPY. 3 pair ni saya biased bearish. sell rally would be a good idea. 
EUR as of now dapat la sedikit nafas selepas Uncle Trichet hike rate. tapi, according to analyst, this action will bring negative impact kpd ireland, greece, portugal and even italy. 
lets have a look at futures dollar index chart.
Weekly candle was a decent bullish candle. more upside movement is expected for dollar. in term of SnR, dollar dah open above the down TL yg turun dari 6/6/2010 extended to 9/1/2011 peak. kalau minggu ni pon close atas TL ni, insyaAllah, bull will continue. Next resistance is aroun 70-80 pips away kat atas tu.  a test move up to break that resistance akan reflect a 100-150 pips movement downward in EURUSD. 
Minggu ni, insyaAllah I will monitor USDCAD, GBPUSD, EURUSD, EURCHF,GBPJPY, EURJPY. since I am biased bullish dollar, I will look to sell Dollar quote pair and buy dollar based pair (USDCAD).
will update mote later today..  tido sat
More Articles...